Have you already tested the new delivery process? The Courier App changes its look from pick-up to delivery of an order.
By simplifying your pick-up and delivery experience, you'll have relevant information at your fingertips. This helps you easily manage multiple pick-ups and deliveries.
Picking up orders: what has changed?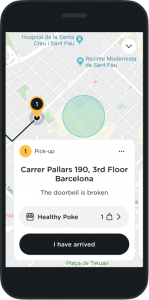 Moving from your location to the partner is made easier with a clear and simplified pick-up screen. You will recognize the pick-up point as a yellow bubble on the screen.
Ride to the pick-up point
When driving to the pick-up point, you will see a simplified version:
– Name of the partner
– Address
– Number of orders
This gives you all the relevant information at your fingertips without having to search for it.
Did you know that clicking on the address or the vertical dots will take you to the map and navigate you? Try it out!
Arriving at pick-up point
When you arrive at the partner's place, you'll find everything you need to know when you pick up the order.
You can see:
– the payment method: no payment, cash or cart payment at pick-up and delivery
– Contents of the order: List of items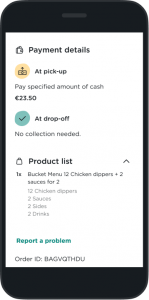 Delivering an order: what has changed?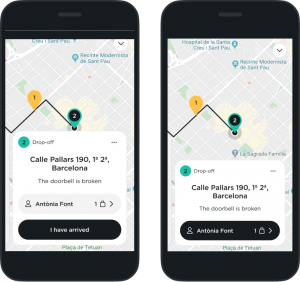 Once you have collected your order, you will see the drop-off point(s) as green bubbles on your screen. This gives you a clear indication of where you need to go.
When delivering, you will notice a simplified screen:
– Delivery point and customer name in one view
– Easy access to the navigation app"
"When delivering, you can click on the address to be guided to the delivery point via the navigation system. Have you checked out the three vertical dots? You can use them to:
– Call support
– Call emergency
– Go to the navigation system
Have fun with your smoother delivery experience! Let us know if you have any feedback or suggestions for improvement."