Do you like playing and earning extra money? Then this feature is for you! The challenges feature in your app will give you the opportunity to receive monetary incentives by completing a challenge. But what are the challenges about? Well, they will consist of delivering a defined number of orders in a determined period. If you achieve the goal, bingo! You earn extra money.
How to join the challenges?
You'll discover a new challenge in the "Challenges" section of your app and through a push notification. Once you tap the challenge, you get to see all the details you need to reach the goal (description, rules, levels, and period), so all you need to do is press "Join". If you're up to the challenge, that is!

After every order you complete that falls under the ongoing challenges, the progress bar in the "Challenges" section will update automatically, so you will be aware of your completion status in real-time. This is how you'll see it in your app: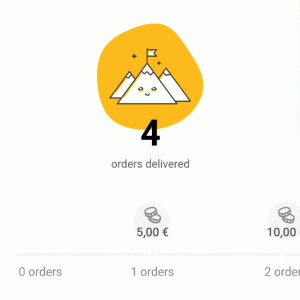 You can join any challenge you want, but you can only take part in one at a time. Once the challenge ends, we'll calculate your extra earnings and include them in your next payout.
Ready to play?