At Glovo we value transparency
All our 3 pillars; Couriers, Customers & Partners need visibility to our operations. We update our payment structure every 3-6 months with a view of the market trends.
We have improved the payment structure…umeskia kwa mafans??? hii ndio form…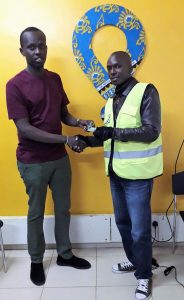 FAQS
We have created this FAQS for you to understand and have high visibility on everything agreed and changed.
Q: With the weekly bonus being removed, will I still be able to make the same amount per week?
A: The proportion of the bonus in the old structure is the same as the proportion in the new one. Keep in mind that Glovo has improved the distance payout(2.3 times the previous rate), leading us to be the most competitive delivery platform to work for in Nairobi.  On the other hand, we are working on increasing the number of orders with tech improvements so that you get more consistent collaboration hours month over month. For example:  if previously you were doing 8 orders a day, you might do up to 12 orders with the same working hours booked.
Q: Will I still receive payment on Tuesday?
A: The payment cycle will be the same one. Your daily cashouts and payment would continue being on Tuesdays.
Q: What will happen with the canceled orders? Will I be paid 15 Ksh(new base) for orders canceled?
A: No – for orders canceled before being picked up you will be paid the previous base of Ksh 40. Keep in mind that Glovo loses money for every canceled order since we end up paying the store for the product as well, this has been one of the wins for glovers. Also, is important you know, we are working internally to reduce the % of canceled orders.
Q: Which hours will get bonuses vs the old structure.
A: From 80% to 100% of the slots will have bonuses.
Q: What happens if I don't hit 20, 40 or 75 orders? How will this affect my earnings?
A: You will still be paid depending on the number of orders done. For example, in the old system, if you did 74 orders, you'd be paid a bonus for 40 orders. This is, however, not the case with the new system as 40 orders attract a payment equal to 40 orders and 74 orders will attract a payment equal to the number of orders. You will get the fair payment of the number of orders that you do. Pssst: remember that km fee is higher 😉  
Q: What is the minimum amount I expect to earn on any order, for example, if I move a distance of less than 1 kilometer, how much do I stand to earn?
A: All earnings will be calculated based on the formula above i.e. (Base Fare(Ksh 15) + Distance driven per Km(Ksh 23 per KM) + Waiting time while at the store(Ksh 1 per min)) regardless of the distance covered. This means that you stand to earn more on longer distances and substantially higher amounts for lesser distances compared to the previous payment model.  
Q: What if I feel my payments are inaccurate?
A: You are always welcome to visit the Glover center during attention hours (MON:2PM-4.30 PM, TUE & THUR 9 AM-11.30 AM) to sort out invoicing issues and address any issue that you feel is an inconvenience.