The Pledge is our commitment to create fairer earnings for couriers. Today, we're delivering on our promise!
Meet: The Delivery Guru, your long-term companion among the challenges. Over a time frame of three months, you have the chance to earn extra with Delivery Guru.
What's Delivery Guru?
"Delivery Guru challenges you to reach a set amount of orders over a three month period. Think of it as a ladder that you climb up, level by level.
Each time you reach the level target, you receive a well-deserved loyalty reward. Every order counts!"
Keep in mind that Delivery Guru will not replace other ongoing challenges within the Courier App."
Where can I find Delivery Guru?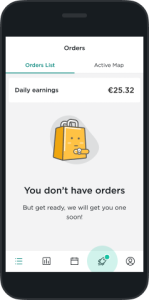 You'll find Delivery Guru in the Challenge section of the Courier App. The challenge details show you when the next Delivery Guru challenge starts and when it finishes. It tells you how many orders you need to complete and how much you'll earn when you reach your target.
Can I track my progress?
Yes! The Challenge section in the Courier App shows your progress. You can see how many orders you've completed and how close you are to reaching the goal. The countdown helps you keep track of the end date of the challenge.
How to participate
"The challenge is open to every courier. Good luck!
Will other challenges still be there?
Yes! Delivery Guru is an additional challenge that will be there long-term. However, you will still see shorter challenges in the "challenges" section as usual.