The booking calendar becomes available twice a week:
On mondays you can book the weekend hours
On Thursdays you can book the hours for the beginning of the next week.
You will always get a notification to remind you that you can pick your hours (you won't receive a notification if you're already in the app).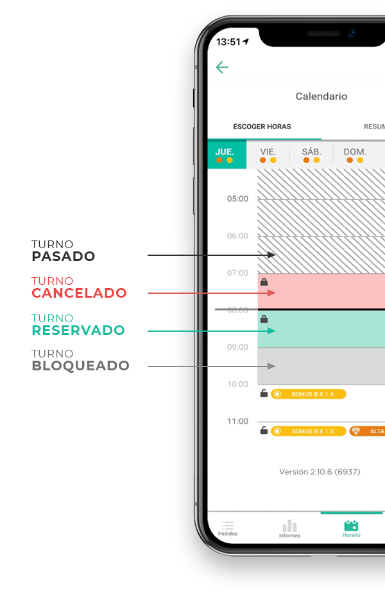 You can book your collaboration hours in the calendar section of the Glover app. The available hours appear in white, while the full ones appear in grey. You just need to tap the available hours during which you want to collaborate and they will turn green, indicating to you that they are successfully booked. (Keep in mind that the hours marked with a lock cannot be deselected).
The calendar opens first to couriers with the highest Excellence Score.
"If you are a new courier, you will not have an Excellence Score until you reach 50 orders.
When you start delivering orders, your Excellence Score is calculated but it won't take any effect. In other words, you will be able to book hours the same as the average courier in your city. But once you have reached 50 delivered orders, your Excellence Score will come into play. You can check your Excellence Score in your profile (in app) and you will start being able to access booking hours based on your score."